To learn more about us watch this videos
Home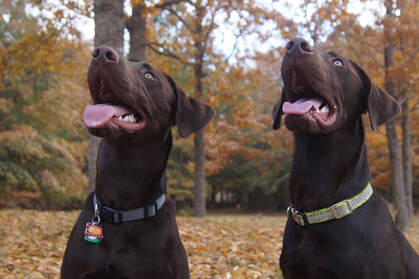 Some of our babies!
Dry Pond Kennel
is owned and operated by Bill and Beth Johnes. We are located in the country just outside of Johnston, SC. Our home is built on 55 acres with a 2.5 acre pond.
We are surrounded by open fields and woods; the perfect playground for a Labrador retriever.
When we first brought home our first chocolate female, Jenna in 2010 our pond had dried up, hence the name "Dry Pond Kennel". In 2021/2022 we had our pond turned into a technical training pond complete with a puppy play area.
We have been involved with Labradors since 1988 when we purchased our first Labrador and our love for this incredible breed has grown significantly with every Labrador that has been part of our life.
Our first, Jessie, a black Labrador was gentle and loving. Our second, Jamie, a high spirited yellow Labrador always seemed to get into some sort of trouble. Our third and first male dog, Jake was a gentle giant weighing in at 115 lbs and was a creamy white color. Whether Jake was on the dove field, tracking a deer, fishing in the pond or just playing with his squeaky toys, he was the all around hunting companion and family member who will forever be remembered in our hearts.
Dry Pond's Labrador breeding program, was founded in 2010 with the arrival of a chocolate puppy,
Jenna
. Before Jenna's arrival we decided to begin a breeding program that is dedicated to producing well rounded hunting, competition, and family dogs with an emphasis on chocolate labs.
Having a well rounded and valued member of the family ready for the field as a hunting companion or living an active lifestyle in the home is our #1 goal at Dry Pond Retrievers. This is accomplished by breeding for intelligence, train-ability, physical soundness and having a natural marking ability, and good all around attitude that can do the work and then come back home to be a valued member of the family.
---
---
---
Puppy Rearing Area! Ask Us About Coming To A Open House!
To view other great photo's by Up Close Photo, Photography by Mark L. Atwater click here!