Testimonials
We have just reached the one year anniversary of when we brought Molly home from Dry Pond Retrievers & Kennels. She just had her one year health checkup at our vet and he said she was in terrific shape and in top health. The only downside is she has more energy than both of us combined.

The results of your outstanding work raising Sadie's puppies are obvious to us every day. Her even temperament, fearless attitude when experiencing new situations, her friendly approach to strangers of any age, and her ability to get along with other dogs is a big plus as we travel on our sailboat and by car. She is ready for anything.

She was practically housebroken from the day we brought her home. She has been relatively easy to train when we can keep her focused on what we are doing. She is very "food motivated" which makes controlling a sometimes wild puppy easier. We will be keeping track of Sadie's upcoming liters and will most certainly be adding a sister for Molly when she's a little bit older.

We wish you continued success with your outstanding breeding program.

Debra and Howard Lerner
North Carolina, Key West & Maine
Sadie X Blue 2015
---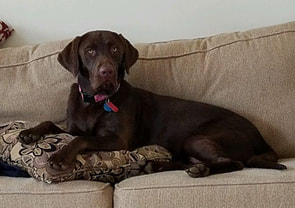 ​We love DPK and Beth! She is a wonderful breeder. She cares about all her dogs/puppies and their development. Her place is clean and she works continuously to maintain the areas the dogs are in and around. Her puppies are happy, healthy and well socialized. We love our Camo and look forward to a rewarding, forever friendship with DPK!

Scotty & Terri Smith
Jenna X Sprig

---
---
| | | |
| --- | --- | --- |
| | We can't say enough great things about our experience with Beth and DPK. Cooper is a SprigxJenna pup from June 2016. He has more personality than we know what to do with most days but at the same time is the sweetest pup. We highly recommend DPK to anyone looking for a chocolate lab. Amanda & Ryan Paxson - Jenna X Sprig 2016 Litter | |
---
---


​I found Dry Pond Kennel just searching the internet for Chocolate Labs. After searching many sites I found that between the updates on Facebook and drypondkennel.com that this would be my first choice. I made a call to Beth and put myself on the waiting list in November 2015. From that moment all the way up until my pup "Banks" was born (June 2016) Beth was very professional and showed me how this was not just a business for her as she loves what she does. Not to mention the dogs that come from Dry Pond Kennel are A+.

David Land
​Jenna X Sprig litter 2016
---
Beth is amazing. So glad I happened upon DPK with a random puppy search. Beth goes above and beyond to raise healthy and socialized puppies by putting her heart and soul into this business. Our lives and hearts are forever changed thanks to Trigger! The Byrd Family
---
Couldn't be happier! Beth was wonderful during the whole process. She's great at what she does because she loves it. Our Jasper is an amazing little puppy. Caitlin & John Tripp - Bella X Sprig Litter
---
Beth is as professional and caring as they come. There is no doubt that Dry Pond Kennel is a labor of love and that Beth does everything possible to raise healthy, beautiful, and talented pups! I can vouch that Dry Pond is a great place to find a dog. My wife and I couldn't be happier with our new puppy and the experience leading up to getting him. Dean Williams - Sadie X Boot Litter 2017
---
We visited Beth and the dogs during the open house this weekend. She is amazing with the adult dogs and the puppies and they all were so healthy and happy! What a great resource for people looking for well bred hunting and sport dogs or just a wonderful family pet. Thanks Beth!
​McCall Richardson -2017
---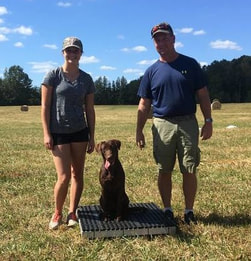 Beth is first class as a dog breeder. She was so easy to deal with from day one until the day we picked up our puppy. She took the time to answer our questions and the daily videos of the dogs show how much she truly loves all of her dogs.

I would highly recommend Dry Pond Kennels!

Raymond Rafferty
​Sadie X Boot Litter 2017
---
---

​As an avid bird hunter I am extremely particular about the bloodline and temperament of my retriever. I have been blessed to have incredible dogs and I believe it is the combination of intelligence and temperament that allows one to have a well rounded companion. Dry Pond Retriever hands down raises these amazing labs and I highly recommend them.

Stebin Horne
Macon, GA
​Sadie X Blue 2015

---
---
My family and I visited Dry Pond Kennels today. It was a great experience. I am very impressed with the knowledge and passion they have for breeding and raising pups!! We can't wait to go back in two weeks and pick up our new family member!!! Thanks again Beth for having us today! The Guzman Family
---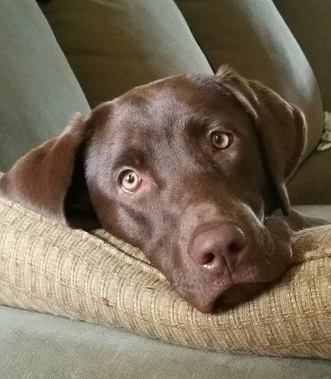 Hi Beth,
I wanted to write an let you know how much we appreciate your help in finding our family's perfect pup! I cannot believe it has already been a year since Folly came into our lives. Besides being a beautiful chocolate lab, she is a joy to everyone she meets and is so great with our children. Her easy going personality is wonderful, but her clever mind is what we love most! She is so smart and loves learning new things! When we take her to the Vet's office he always remarks about her breeding and says she is one of the best he's ever seen. Thank you for your dedication to the process and making it so smooth. We loved that you communicated with us along the way with pictures and updates until we were ready to bring her home. When we came to get her we were so impressed by the wonderful facilities you have! Top Notch! Our family is forever thankful to Dry Pond Retrievers & Kennel for giving us our Sweet Diva Dog, Folly girl.

Thank you!
The Hagemann Family
Kathleen, GA
​Jenna X Sprig 2015
---
---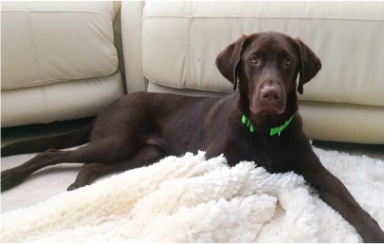 During my search for a breeder of Chocolate Labradors, I came across Dry Pond Kennel. When I first spoke with Beth, I immediately got the sense of her dedication and love for the breed. I was so excited to find out that their gorgeous Sadie, daughter of their beautiful Jenna and the well known Hydro, is going to have puppies. Beth has kept in touch and updated me throughout Sadie's pregnancy and after the puppies were born. I was able to follow the puppies' daily activities through photos and videos, and had received weekly updates on their developments. Beth and Bill made sure that the puppies as well as their Mommy will have everything they would need. From building an entire kennel to staying up all night they ensured that the puppies were taken care of. They also had introduced the pups to as many different things as possible giving them a start of a well rounded life. From building a playground of different textures and sounds to have them outside playing with duck wings they were all up to a great start by the time they were ready to go home with their new families.
Blaze had adjusted and learned small commends quickly, and he was fully house trained within two weeks of bringing him home. He has a sweet and social personality, as well as great manners, which makes everyone who meets him fall instantly in love with him.
I credit this, in no small part, to good breeding and all the nurturing given by Beth and Bill. It is obvious that they both have a love for their dogs and go the extra mile to ensure that their dogs are given the best possible start in life.
I consider myself very fortunate to be a part of the Dry Pond Kennel Family and look forward to sharing many great moments in the years ahead! I am beyond pleased with the choice of selecting Dry Pond Kennel.

Brigitta Anderson
Tampa, FL
​Sadie X Blue 2015
---
---
Hi Beth,

I can hardly believe Moses has already passed the sixth month mark as it seems like just yesterday that I was preparing to pick him up. He's really starting to grow into the big personality he arrived with and is always receiving compliments on his good looks wherever we go. l like to think that Moses is a deep thinker of sorts as he's always been one to stop, sit, take things in, and then dive in with that great, lab enthusiasm we all love and admire. He's super friendly to all, very athletic, enthusiastic, and has been responding well to the preliminary training we've been doing. And though there is probably no hunting in his future I'm reminded that it is in his blood every time he takes a keen interest in each bird he comes across, even the smallest sparrow.

I am very appreciative of all the work you put into your puppies. The pictures and videos you made available were great as it was a real treat to be able to follow events so closely and from the very first day! I'm so pleased to have found Dry Pond Kennel and have had the opportunity to welcome one of your pups into my life. The dogs you produce are very special and a real testament to what Dry Pond is all about. Moses has been everything I was hoping for and then some. He's proving to be a great companion and I can already say that life wouldn't be the same without him.

Thank you!
Michael Lanoue
Jenna X Sprig 2015
---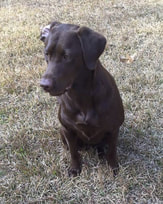 Cocoa has been a great addition to our family. She has boundless energy and is still quite mischievous. She has a great personality though and makes us laugh everyday!! Love her.

Brandie & Scott Mathias
Columbia, SC
Sadie X Blue 2015



---
---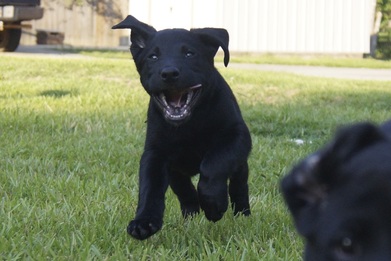 Beth, I have been meaning to write you to thank you for all you did to help me find my son Jordan the perfect Lab. My husband and I loved visiting your beautiful Dry Pond Kennel when we came to pick up our precious McCartney.

Beth, we had McCartney five days before we surprised Jordan with his puppy. She is absolutely the smartest and sweetest dog. She and Jordan are inseparable. She reminds him so much of his precious Lennon who shared his life for 13. THANK YOU!! Jordan really needed a puppy and you found the perfect one!!years.

Beth, there are no words to express to you how thankful we are for all you did to find Jordan the perfect dog.

Rosemary Smith
Lexington, KY
Pearl X Deuce Litter 2016 - Assisted in finding the right puppy for a client.

---
---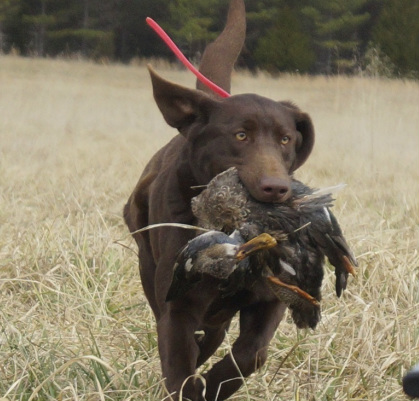 Hi Beth,
I just wanted to let you and Bill know how pleased we are with Timber. Our experience with you has been a pleasure! I loved how you posted weekly pictures after the puppies were born, it made the picking process a little easier watching them grow. Timber is now in training and the reports we have received are fantastic. She is extremely intelligent, very willing to please and a natural at retrieving. I will recommend everyone I know looking for a well bred, loving, beautiful happy dog to you. Thank you again. Timber is the love of our lives.

Lisa, Kurt & Carson Durette
Cocoa, FL
​Jenna X Hydro 2013

AKC Registered Name: Riptides Carolina Timber
---
---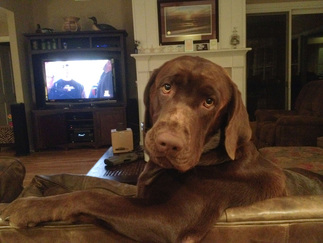 Hi Beth,
I cannot believe it has been two years since these adorable puppies were born!
Gunner is doing great; he has developed a personality all his own. He is such a fun loving, easy going dog, except when it is time to go hunting, he gets very serious and focused. Gunner has been on multiple dove and duck hunts over the past year and a half and he has been performing extremely well. He went on a duck hunting trip to North Dakota in October and retrieved for several hunters. Everyone was impressed with him! It is so great to have Gunner as part of our family.
We enjoy seeing photos of all of Jenna's family as they grow. Hope you all are doing well!

- Wayne, Dorothy, Courtney, and Hunter Windham
​Jenna X Hydro 2013


---
---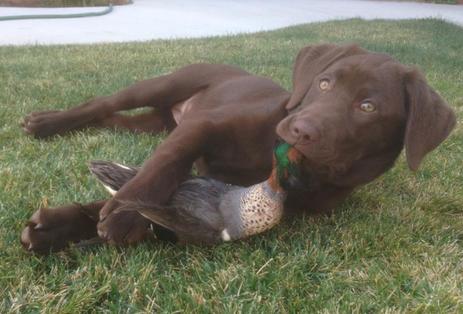 Beth,
Just a quick Gemma update, she has been at the trainer (Stonewall Retrievers in Acampo, CA) since June 2nd and comes home early October. I make the two hour drive (each way) to go see and work with her almost every Saturday. She is progressing very quickly and the trainer is happy with her and has expressed how athletic, persistent, and driven to retrieve Gemma is. Also mentioned how she has a great nose and apparently is one heck of a jumper. Apparently she can jump from the ground on top of a dog box which sits on the flatbed of an F-350. I now know why Jenna is Dry Pond's Jumping Jenna. I'm excited for the upcoming duck season and couldn't be happier with her, she is living up to her name, she really is a Gem!
THANK YOU!
John Heberger - Fresno, CA - Jenna X Hydro 2013
---
---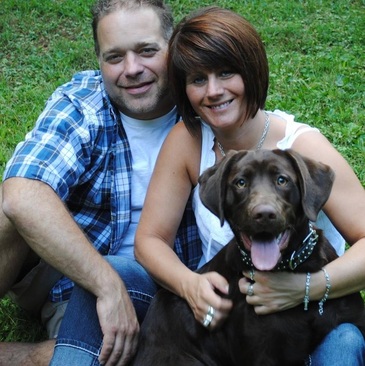 Beth,
We have had so many people tell us how beautiful Maya is. She really is adorable and such a well mannered girl. I refer to her as the best dog ever. She has Her own amazing personality. She has become like one of my kids. She likes to follow us around and doesn't seem to wander to far from us which is great. She shows a strong loyalty to her family already. She keeps an eye on Olivia and cries if she goes outside without her. I hinted to Ray about getting another pup from the next Jenna/Hydro litter but I think he has his heart set on breeding Maya once. I on the other hand have some apprehension about all those little puppies! Knowing my Olivia she will try to keep all of them! I will pass on that you are breeding again, lots of people have asked where Maya came from and if there were more!

Bekka Gair & Ray Smith
Pennsylvania
Jenna X Hydro 2013


---
---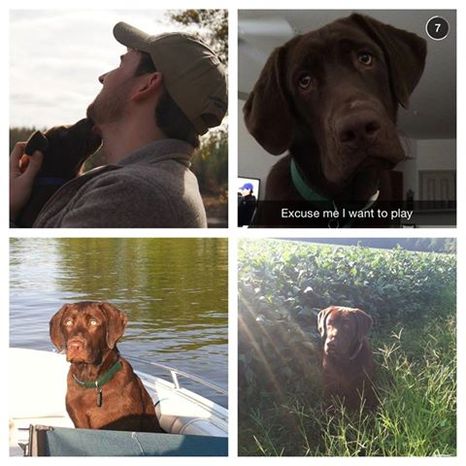 Hey Beth!

I hope you and the family are doing well! I haven't given you an update on Jack in quite a while. He is doing great and he is HUGE now. He's getting bigger and stronger every day. He went on his first dove hunt last week and loved every minute of it. This morning I finally registered him through the AKC (long time coming), "Hydro's Rippin' Jack Hammer". We celebrated with a spoonful of peanut butter and chasing each other around the house. I just wanted to give you an update and tell you he's been doing great in his training. Natural retriever! I couldn't be happier with him.

Taylor Bryant
Wilson, North Carolina
​Jenna X Hydro 2013

AKC Registered Name: Hydro's Rippin' Jack Hammer



---
---
---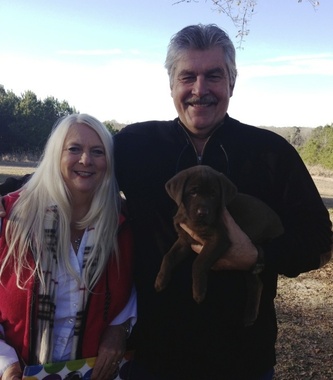 Beth,

Hi, this is Deborah Rainey-Pettay, Ken's wife.

We got our lab puppy from you as our Christmas present to each other last Christmas. We cannot tell you how THRILLED and SATISFIED we are with "Gator". He has truly far EXCEEDED both of our expectations. He is SO SMART and is now definitely one of the FAMILY :) Growing unbelievably; healthy and strong!

Ken has done an excellent job training and working with him. We cannot begin to tell you all the endless hours of joy this puppy we call "Gator" has brought into our lives! He has also become a part of the Georgia Realty Sales team :) going alongside us with our clients in our ATV when showing property!

We took him on his first opening day DOVE SHOOT just a few weeks back and he was terrific. (More pictures are below :) (Gator has been on many a duck hunt also :)

We both feel so BLESSED to have Gator and are So glad we FOUND YOU AND YOUR KENNEL! We couldn't be happier or more PLEASED with our "Gator"! HE is the BEST!
THANK YOU!
Deborah & Ken Pettay
Jenna X Hydro 2013 AKC Registered Name: Pettay's Gator
---
---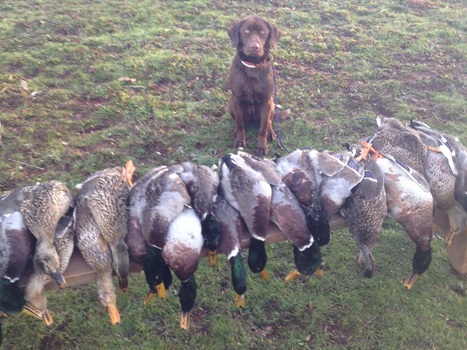 Hey Beth

Cola is doing great. She weighs about 53 pounds (6+ months old) and has a good athletic build. She has a great temperament and she is great with the kids. Until last week she has been going to the office with me so she is well socialized and has good manners. Last week I took her to Boykin SC to Allen Whooten at Palmetto Gun dogs doing some more advanced retriever training. Her desire to retrieve on land is about a 4. In water she is a 5 on a scale of 1 to 5, with 5 being high drive. She is really smart and has been easy to train.

James R. Curtis Jr.
South Carolina
Jenna X Hydro 2013

---
---

Beth,

Our abbey is the most beautiful and lovable pup ever! She has already become an important part of our family. We are glad we found Dry Pond Retrievers and Jenna & Hydro

Nancy & Roger Clark

South Carolina
Jenna X Hydro 2013




AKC Registered Name: Princess Abigail of Chesapeake






---

This is Abbey just one week ago (Posted June 20th, 2014). She is getting so big – about 58 lbs. She looks so much like Jenna. We are so thankful we got her – she is such a loving pup and so very smart – a great addition to our family!

Hey Beth,

Sorry for the late response but I wanted to get some action pics of Dozier for you and still have not. Dozier has been great. Super fast learner and knows when it's time to work and when it's time to play. He has heal, sit, sit stay and come, down cold. I can get him to sit on command even if his 20 yards away from me. He has no problem with double retrieves on land or water and he LOVES the water. Jumps head first into every little puddle he can find. He can make 35-40 yard water retrieve's no problem. And completely goes bonkers over live birds. He has lost several of his baby teeth and weight 61lbs (5 Months old), all muscle. He spends just about every weekend at the hunting club in the woods up to this past weekend since it has been so hot outside. He has also taken on the roll of my protector. Everywhere I go and take him, unless it's someone in my family, he'll stand between me and whoever and bark and growl like he's a bad ass. Once I call him down then he's fine and wants to lick your hand.

Paul Betzen

South Carolina
​Jenna X Hydro 2013 Litter