Whelping Services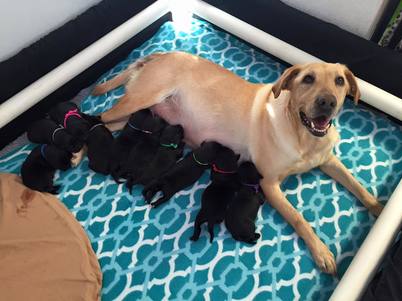 We realize that dog owners may want to breed their bitch, but do not have the facilities, time, or experience to give the litter the best possible start that we all want for our puppies. Dry Pond Retrievers and Kennel is offering whelping/puppy care services to a limited number of pre-approved litters each year. These litters will receive the same excellent start that all Dry Pond Retriever puppies receive from birth until they are in the hands of their new owners at 7 weeks of age.
Our kennels are located right behind our home in order to provide the care needed for whelping and raising a litter. Our facility has two separate buildings to accommodate multiple litters of various age. Both buildings are designed for whelping and raising puppies. The whelping/nursery area provides a safe and quiet area for the new mom and puppies and the kennel area has 4 climate controlled runs that can be converted into 2 separate whelping/litter raising areas with access to the outdoor runs, water on demand in whelping rooms, and sealed floors for easy clean up and sanitation. In addition to the outside runs, we have a large airing yard for Mom and a special area for the puppies to play. Our focus is cleanliness, safety and most of all providing a wonderful home to the puppies before they go to their new homes. Our main goal is to provide a home away home atmosphere to your 4-legged family members while they stay at Dry Pond Retrievers & Kennel.
---
---
Custom Whelping includes:

Care of your pregnant bitch for at least 1 week prior to scheduled whelp date of the puppies. The option of an extra week is available for an additional fee.
Administration of any drugs or supplements during the bitch's stay, which is to be provided by the owner/owner's veterinarian.
Whelping the pups. If complications arise and trips to the vet are necessary, the bitch's owner pays for the vet services. Any drugs used in the whelping process are to be provided by or paid for by the owner. This includes but are not limited to emergency C-sections.
Trip to the vet for dew claw removal, initial puppy checkup, and post whelp checkup of bitch, normally 1-3 days post whelp. These vet costs are the responsibility of the owner.
Trip to vet for 1st round of puppy shots. These vet costs are the responsibility of the owner.
Administration of de-worming and de-protozoa medicines. Some of these medicines we use keep the pups free from parasites throughout the time they are at Dry Pond Kennel. Medicine is paid by the bitch's owner.
Weaning of puppies around 4 weeks of age. The cost of the puppy food is to be paid for by the bitch's owner. Puppies are fed Purina ProPlan Puppy Food, unless other food is requested by the bitch's owner. The bitch will be fed the same food during her stay.
Staying at Dry Pond Kennels until they are 7 weeks old. During those 7 weeks, pups are well socialized and are introduced to retrieving, whistles, duck wings, water (weather permitting), and crate training

---
---
---

Litzy's family selected the full whelp plus 1 week option. Litzy's puppies were 1 week old when the family came to pick them up to raise at home with the help of their 4 girls.

A note from Litzy's family:
Beth,
Litzy and her pups are doing great and the girls are having a ton of fun playing with them and watching them grow. We can't thank you enough for providing such excellent care for Litzy, whelping her pups, and providing the best possible start for the new mom and her pups. Your facilities are great and the advice and input while planning the whelping was invaluable. We put so much time and energy into these retrievers, gun dogs, and family members that it only makes sense to want the best for them when they are whelping new pups. We are big fans of Dry Pond's whelping services and sincerely appreciate all your communication, care, and expertise.

Thanks Beth!
Jason Sanders

Whelping Services Options:

Custom Whelping Options range from 1-2 puppies to 12+ puppies.

Full Whelp plus 1 week (2 weeks - 1 wk pre-whelp and 1 wks post whelp).
Full Whelp plus 2 weeks (3 weeks - 1 wk pre-whelp and 2 wks post whelp).
Full Whelp and Litter Package (8 weeks - 1 wk pre-whelp and 7 wks post whelp).

Additional Services and Expenses:

Vet trip charge within a 20 mile radius and over 20 mile radius of our kennels. For a fee Microchip options are available using AKC Reunite's chips.

Whelping Services do not include:

Litter Registation(s) (example AKC or UKC)

Buy/Sell agreement for pups and or marketing the sale of puppies

Dog food or additives

Veterinary assistance or well care in breeding, delivery, or post-delivery or health clearances for any pups or the Bitch.

Puppy Packets containing copies of applicable proof of clearances for sire and dam, titles or registrations on sire and dam, guarantees for pups

What to bring with you when dropping your bitch off:

Proof of current vaccinations.

Food that she is currently eating (Need 1 weeks worth so we can mix with the Purina ProPlan Sport All Stages and transition to this food)

Any supplements and medicine

Bedding or other item that belongs to her.
---
A note from Dakota's family:
My family was given Beth's name and Dry Pond Kennels as a potential whelping center. After talking with Beth, we quickly agreed this was the best place for our Chocolate lab Dakota to have her first litter. Beth kept us informed daily, even multiple times if we ever had any questions. Her knowledge and sweet spirit made this experience so easy. Our Dakota was a challenge for her but Beth worked hard to find a great balance. She also was able to sell all our puppies and found some of the sweetest families to love the puppies. We were able to meet the families and see where these puppies would be living so we can see them grow. Thanks to Dry Pond Kennels for an awesome experience!!

Lane & Brett Beddow