Breeding Program
The deeper into the pedigree that dogs are certified free of health issues, the better!
Our breeding's are thoughtfully planned to ensure correct temperament, type, soundness, trainability and ensure that they are
certified free of health issues
. The pups are lovingly raised in our home giving them maximum socialization during the first few weeks and then moved into our new kennels designed for handling a litter full of active puppies!
Our Breeding program will be based on these fundamentals
:
To make a better dog with the proper mating in looks, health clearances, training ability, and behavior, while keeping temperament as a high priority.
To breed healthy, sound dogs for hunting, field trials, companions, and obedience.
Our breeding's are planned with the research of pedigrees and we choose the stud dog who will best compliment our girl.
Every litter is planned with a goal and purpose months or years in advance with the intention of keeping a puppy or puppies to continue our lines and build on our program.
For the Puppies
:
Find the correct placement of the dog into the proper environment.
We want our puppies to become valued members of their families so they are well socialized in our home before going to their new homes.




---

Puppies are here!!! Males available



Gin gave birth to 6 males that we are calling "The Boot Boys"

​Born June 19th, 2017

Ready to go home: August 5th

AKC Full Registration
Copy of executed Terms of Sale and Guarantee
26 month health guarantee from Seller.
Vet exams and first round of puppy shots.
Dew claws removed
Micro Chip
---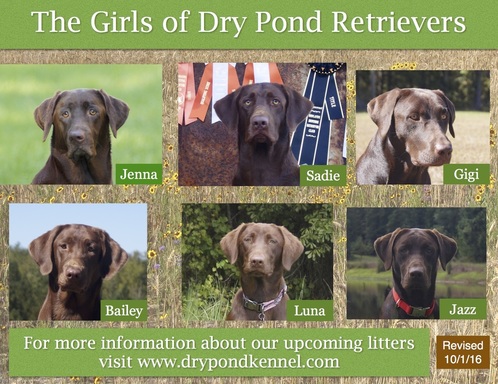 ---
---
---
---
---
Previous Litters
---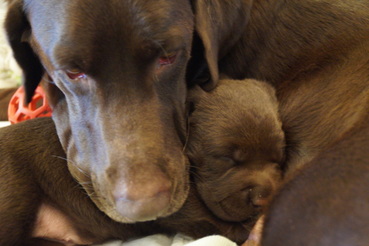 Jenna and Sprig Litter

One special boy was born on December 13, 2014.
His name is Ruger!

At birth he weighed 1 lb 7 oz. He grew very fast and went to his new home weighing 17+ lbs at 7 weeks old.
At 5 weeks of age he already had a great on/off switch and was retrieving a duck at 7 weeks old. Ruger only lives a short drive from us so we get to have visitation rights and can watch him grow!
---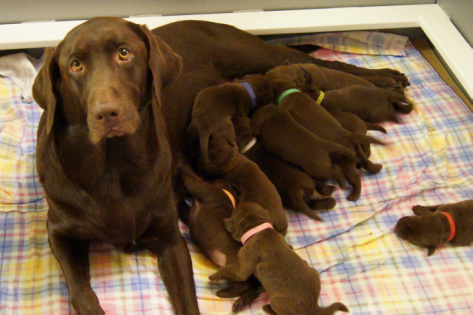 Jenna and Hydro Litter

11 chocolate puppies
(6 males & 5 Females)
born Nov. 9, 2013
All Puppies are sold!


---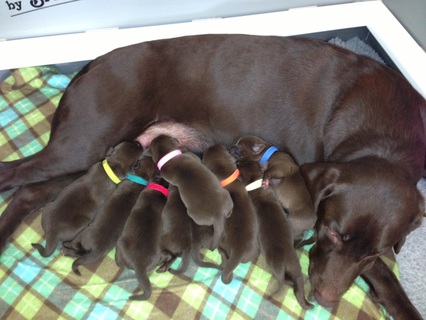 Jenna and Hydro 1st Litter
9 chocolate puppies
(5 males & 4 Females)
born Feb. 17th, 2013
All Puppies are sold!

---
Deposits
Deposits of $400.00 to reserve puppies are non-refundable, unless your reserved puppy becomes unable to be sold due to illness, defects, etc. For more information view the Purchasing your Puppy information.

Choosing Puppies from Our Litters
Reservations for males and females from each litter will be taken prior to the litter being born. Deposit's are due 1 week after the puppies are born. Puppies will be chosen in the order that reservations are received and are contingent upon receiving the deposits within 1 week of the whelping of the litter. If we do not receive your deposit within 1 week of the whelped litter, you will forfeit your place in line and the next person will be allowed to pick. Once the puppies reach 5 1/2 weeks of age, you are welcome to visit us and choose your puppy. Each puppy MUST be chosen by the time the puppies reach 6 1/2 weeks old or you will be put at the end of the choosing order. Information (birth order & weight) and pictures of the puppies will be posted on our website weekly. Puppies go to their new homes when they are 7 weeks old. Puppies being shipped out of state via plane or courier are 8 weeks old.
For more information on Labrador Retreiver Health visit Canine Health Info.